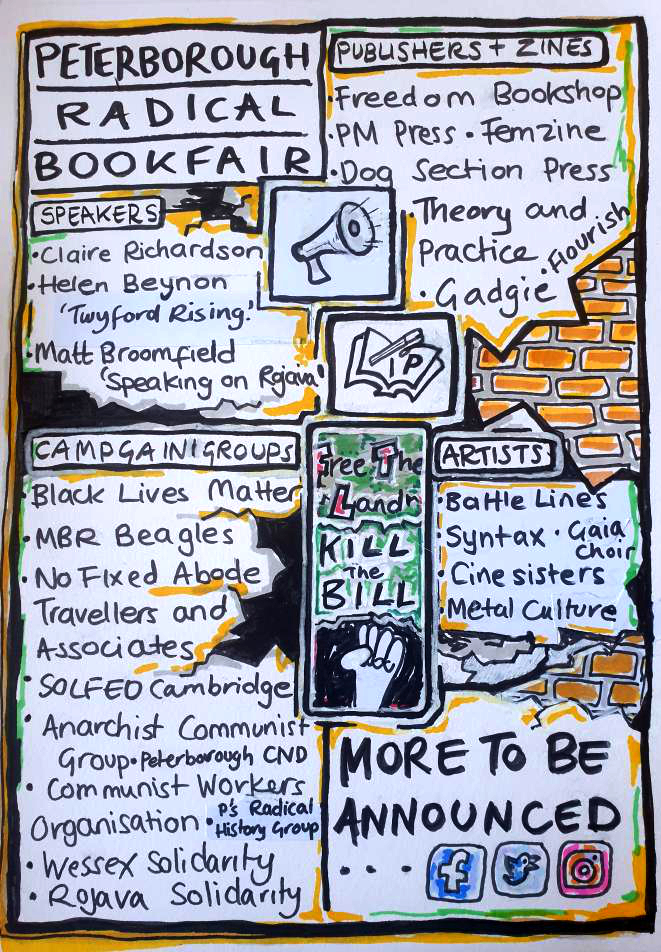 Pre-event film screening: Born in Flames (1983). Postponed. Please check back for new date.
In association with Cine-Sister
Confirmed Stalls and Speakers:
Saturday 29th October, 11am to 4.30pm at the George Alcock Centre.
Zines and Journals
Frog: Peterborough Zine
Gadgie
GRRLZINE
Elderflower
The Alarm
Publishers and Booksellers
Dog Section Press
PM Press
Freedom Bookshop
AK Press
Theory and Practice
Talks
Hazel Perry - Peterborough's 1928 Celta Mill Strike
Helen Beynon - Twyford Rising
Janine Booth - The RMT Dispute
Groups and Organisations
Communist Workers Organisation
Anarchist Communist Group
Critisticuffs
Industrial Workers of the World
Peterborough Radical History Network
Artists
Metal Culture
Syntax
Flourish
Food available all day. Click here for menu
Updates and future events can also be found on Eventbrite
Peterborough Radical Bookfair takes place on Saturday 14th October 11am to 4.30pm at the George Alcock Centre, Whittlesey Rd, Stanground, Peterborough PE2 8QS.
For public transport information click here.