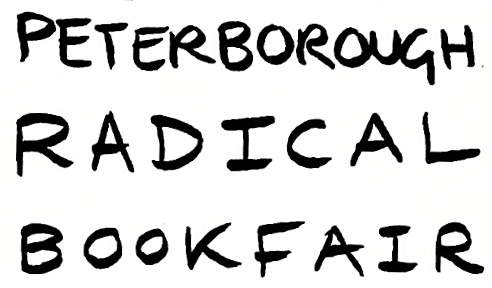 To book a stall please download and read our
booking form
and
terms and conditions
There is a small charge for stalls, on a sliding scale of £5 - £20. All money goes towards keeping the bookfair running. Get in touch if you would like to discuss.
A radical bookfair is a place for booksellers, artists and activists to come together. Contains stalls and speakers. Please let us know if you would like a stall or have something you would like to do a talk about (especially if you can connect it to a book).
- books.
- zines.
- art.
Especially welcoming anti-racist, feminist, radical history, animal rights / environmental, socialist / anarchist materials.
Braver Spaces Policy:
Peterborough Radical Bookfair is all about addressing the imbalances of power, creating dialogue, understand and spreading knowledge. It is vital then that we create a receptive space where people can express their wishes for the future, present concerns and learn from the past.
It is through the lens of praxis that Peterborough Radical Bookfair is working towards creating 'Braver Spaces' in order rise to the challange of genuine dialogue round diversity and social justice issues. We do not wish to conflate 'comfort' with safety. The workshops offered and the books available seek to provoke thought. We ask those attending to be brave and receptive to the conversations held within this space.
If we want to confront social stratification and injustice we ought to look at who is participating, who is struggling to participate and why?
We ask that those attending put aside all baggage and bias.
We ask that all those attending are respectful of other peoples existence.
Please understand that; Racism, Transphobia, Abelism, Ageism Sexism and Homophobia are not welcome here.
Should you feel any concern about the behaviour of anyone attending the event approach one of the organisers and we can discuss with you privately about how you wish to deal with an situation should it arise. You can also email us at any time on:
info@peterboroughradicalbookfair.com
Further to this do let us know if there are ways we can improve. Our Braver Spaces approach is a work in progress, always, which benefit from all your suggestions on ways to make the space more accessible to all.

Peterborough Radical Bookfair takes place on Saturday 14th October 11am to 5.30pm at the George Alcock Centre, Whittlesey Rd, Stanground, Peterborough PE2 8QS.
For public transport information click here.